Scouting the Marlins' Latest Acquisitions
By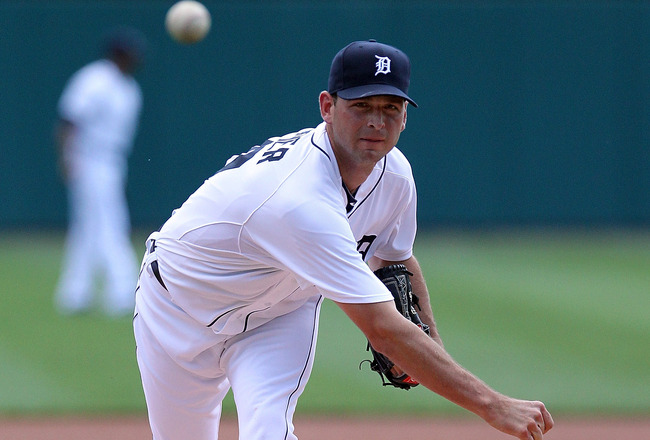 Over the past week, we here at Marlins Daily have been all over the Miami Marlins' latest wheeling and dealing as we approach the July 31st trading deadline. We've looked at things extensively from the Fish's perspective in terms of the players on the way out, but now it's time to take a look at the players the club has added to their organization to see what Marlins fans can expect to see over the next few seasons.
RHP Jacob Turner
Jacob Turner, rated the Tigers' #1 prospect entering each of the last four seasons by Baseball America, is a 21-year-old righty with the potential to be a top-of-the-rotation starter in the near future. Despite struggling in his first six career big league starts (three in 2011 and three this season), Turner is still considered to be one of the game's top pitching prospects. His fastball, which sits in the low-90′s, isn't overpowering, but it's Turner's secondary stuff (curveball and changeup) that garners the most recognition. Turner has also made some changes to his arsenal since last season, ditching the cutter he used during his first taste of the big leagues for a slider that could become another out-pitch for him in the future. It's worth noting that Turner has faced minor elbow and shoulder issues in the past, including a bout with shoulder tendinitis as recently as spring training. Fortunately for Turner, because the Marlins aren't in contention for a playoff spot this season, there won't be a need to push the limits of his arm and will have the ability to shut him down at a moment's notice. And although the numbers from his major league career may frighten Marlins fans, it's helpful to keep in mind that Turner is still just 21 years old and if he can improve the spotty command he's shown in 2012 with some more seasoning at AAA New Orleans, he'll be a valuable part of Miami's rotation in 2013 and beyond.
C Rob Brantly
Brantly, a third-round pick in 2010 by the Tigers out of UC Riverside, has made numerous strides this season toward solidifying himself as one of the better catching prospects in the game. He began the season in AA Erie, where he hit .306/.354/.456 and capped off his first half by going 1-for-3 with a double as one of Detroit's representative in this year's All-Star Futures Game. Brantly isn't a dynamic catching prospect like a Matt Wieters or Carlos Santana, but still possesses solid skills across the board. He's more of a line drive hitter and doesn't have much power, but it's still realistic to expect anywhere from 10 to 15 over a full season once he reaches the big leagues. He'll begin his Marlins career by getting his first taste of AAA alongside Jacob Turner with the Zephyrs, and it's possible that fans could see the battery at Marlins Park during a September call-up.
LHP Brian Flynn
Left-hander Brian Flynn, a seventh round selection in 2011, is a big dude (6'8″, 240 lbs.) with a power arm. Flynn possesses a fastball that can run up to the mid-90′s with developing secondary stuff. He has spent most of this season in Hi-A Lakeland, going 8-4 with a 3.71 ERA and 84 strikeouts in 102 IP. If things go well, there's a chance Flynn could reach the big leagues as a September call-up next season but in the meantime he gives the organization more left-handed pitching depth to add to the improvement of Adam Conley as well as the selection of 2012 first-rounder Andrew Heaney. According to Baseball America, Flynn's upside is that of a mid-rotation starter.
RHP Nate Eovaldi
22-year-old righty Nate Eovaldi began the year as the Dodgers' top pitching prospect behind Zach Lee and has already seen his fair share of time in the big leagues during his short career. Eovaldi made six starts for Los Angeles in 2011, and has made six this season after being recalled from AA Chattanooga at the end of May. Eovaldi's best pitch is his fastball, which has averaged around 94 mph during his time in the majors. The key to his success will be limiting his walks, as he has averaged 3.96 BB/9 in 91 innings with the Dodgers. Eovaldi possesses a good slider as an out-pitch and if he can continue to develop his changeup, there's a chance for even more growth. What's perhaps most impressive about Eovaldi is that he's given up just 17 home runs over 434.1 innings of his professional career, so he'll be able to keep the ball in the yard at the very least. Eovaldi now finds himself as the club's third-best pitching prospect behind Jose Fernandez and the aforementioned Turner and Marlins fans will get to see the right-hander make his debut this Saturday against the Padres.
RHP Scott McGough
Righty Scott McGough, taken out of the University of Oregon in the fifth round of the 2011, likely profiles as a solid bullpen arm in the future. At 22 years of age, he's a bit old for his level (Hi-A Rancho Cucamonga), but has still managed to put up good numbers for pitching in an extreme hitter's league. McGough is listed at just 6'0″, 170 lbs., but is athletic and can run his fastball up to the mid-90′s. He's struck out over a batter per inning so far in his minor league career, and if he's able to cut down on his walks (nearly 5  BB/9 this season), there's a chance he could move up the ranks of the Marlins' system fairly quick. McGough isn't the most spectacular of prospects, but with the loss of Randy Choate and atrocities committed by the big league pen this season, it can't hurt to have another arm to potentially use in late-inning situations down the line.
Scouting reports gathered from Baseball America.