Marlins select Andrew Heaney with the ninth overall pick
By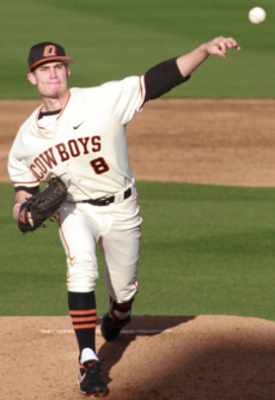 The Miami Marlins tabbed Oklahoma State southpaw Andrew Heaney with the ninth overall pick in today's 2012 MLB Draft.
Heaney was seen as the most polished collegiate lefty of this year's class, and although he doesn't have the upside of high schooler Max Fried (taken by the Padres with the seventh pick), Heaney still brings plenty to the table.
The Oklahoma State junior was selected by the Rays in the 24th round out of high school but opted to continue to play Big 12 baseball in Stillwater. He had a breakout 2012 campaign that included being named a First-Team All American, striking out 140 and walking just 22 in 118.1 innings, as well as leading the team with a 1.60 ERA.
Heaney's repertoire includes a fastball that sits in the low-90′s, a sharp breaking ball and good changeup. He doesn't have electric stuff, but does display great control and has a good feel for the strike zone with all of his pitches. Heaney has a slight build, listed at 6'2″, 174 lbs., which could potentially lead to durability issues down the road. Mechanically, he has a sound and repeatable delivery.
It's not a sexy pick by any means, but Heaney gives Miami a polished arm to add to their minor league system, and with the new expedited signing deadline, he'll have a chance to get some innings under his belt before the 2012 season comes to an end. There will be plenty of comparisons to 2009 first-round pick Chad James (from the same 2009 prep class in Oklahoma), but Miami is hoping Heaney can surpass James in terms of upside. One of the most impressive things about Heaney's track record with Oklahoma State was the improvement he showed from season to season, from being roughed up as a freshman to becoming a First-Team All American this season. Had Fried still been on the board, I think the Marlins would have been foolish to pass him up, but in Heaney, the club gets an advanced arm that they could perhaps send to Greensboro to pair with last year's first-round selection, Jose Fernandez.
The bottom line is that the Marlins opted for a safer, college arm that has the potential to be successful as a solid back-of-the-rotation starter once he reaches the bigs.
Grade: C+
What's next: The Marlins have to wait a while for their next selection (third round – No. 104 overall). I'll be keeping you all updated on the club's activities on days 2 and 3 of the Draft, which has turned out to be intriguing already.