Why Not Bryan Petersen in Center?
By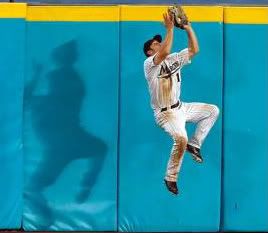 Last week I went through the potential center field candidates for the 2012 Miami Marlins and one player I failed to mention, and I received multiple questions on why I failed to mention him, was Bryan Petersen.
Petersen, who turns 26 a week after opening day, had fantastic numbers in his second stint in Triple-A posting a .351/.434/.569 line in 286 plate appearances in 2011 earning him a call-up to the parent club where he would go on to hit .265/.357/.387 in 241 plate appearances with a .334 wOBA.
Petersen has above-average speed and shows a patient eye at the plate but he has some contact issues, especially with breaking balls. He whiffed on 14.3% of sliders and 13.1% of curveballs thrown to him. He also swung and missed at 11.1% of change-ups.
He can absolutely handle a fastball middle-in and has enough pull-power to hit a few out of the park. But when he uses that same stroke on balls on the outer-half he has a tendency to get on top of the ball and roll it to the right side of the infield. He is at his best when he tones his swing down and goes with the pitch. Major League pitchers do their home work and you can see that they know to pitch Petersen away-away-away.
On the defensive side of the ball his above-average speed helps him chase balls down out of his zone and he has an above-average arm. He can take some bad routes but looks like he can handle the position if given enough innings there.
The metrics are split on Petersen. In 316.2 innings in center he has a +2.9 UZR and has made 22 out of zone plays while only missing 3 in zone plays out of 52 chances. Plus/Minus has him at a +2 but Total Zone has him at -3 in center field. The metrics cannot agree on anything other than his positive output with his arm and the sample size .
After watching some video of him a good comparison, at least for me, is Sam Fuld but with a little more bat and a little less defense and speed. Similar approach at the plate and plays a little above what his tools will tell you.
If Petersen were able to post a similar .334 wOBA and something close to a +5 UZR, and he is capable of doing so, then he could be a great fit in center field for the Marlins. Sadly, though, Petersen does not have a big enough sample size in the Majors to go off of for me to feel comfortable to project those numbers and he never had the prospect pedigree that warranted enough consideration for him to play full-time earlier on in his professional career. Going off of his outlier 2011 Triple-A numbers would not be a wise move to project future stats for a soon-to-be 26 year old.
Petersen does not even appear to be on manger Ozzie Guillen's radar to potentially start in center field in 2012. Petersen may have missed his chance at playing everyday with the Marlins seemingly going all-in in 2012 and favoring the likes of Emilio Bonifacio or potentially Cuban defector Yoennis Cespedes in center field but he could very well be the Sam Fuld of the Miami Marlins and there is absolutely nothing wrong with that.
Jonathan C. Mitchell is a Tampa native who can be found writing about all aspects of baseball at his blog MLB Dirt and about the Rays at DraysBay. You can also follow him on Twitter @FigureFilbert