Who Plays Center Field for the Marlins?
By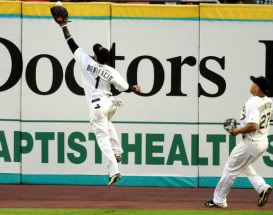 The Miami Marlins enter camp this February with center field being a position where I would expect to see some open competition. The competition for the open spot comes down to a few players who have very little experience at the position and only one player who has more than 570 innings played in center field.
If I were the Marlins, I would still be looking at external options for center field that may be attainable via trade. Maybe B.J. Upton from Tampa Bay could be had? How good would Peter Bourjous look good manning center field for the next few years? But, sadly, the price may be too high on those two and a trade may be out of the question at the moment.
Like it or not, the Marlins will likely have to roll with their internal candidates to fill the center field position despite the lack of experience outside of one player who turns 34 this August.
Aaron Rowand is the only experienced player in center that will break camp with the Marlins and has nearly 9500 innings played at the position.  But, despite the fact that he has posted a +13.9 UZR in center field over the past three seasons, he cannot hit a lick. He cannot hit a fastball anymore, proven by the -7.3 wFB the past two seasons after posting a career +68.8 wFB prior to 2010. Even if he found some of his bat speed and could hit a fastball, he was never any good at hitting breaking balls with a career -40.7 combined wCB and wSL. Rowand also has zero patience at the plate and has only been unintentionally walked 50 times over his last 1254 plate appearances since 2009.
That was a long way of saying that Rowand was brought in on a minor league contract to compete for a back up spot only. He can still play a little defense and runs the bases well but beyond that he cannot help much and turns 34 in August.
Chris Coghlan is coming off of knee surgery he has at the end of 2010 that also made him miss time in 2011. He was also bothered by right shoulder problems that held him out of some games during the spring and the regular season.
Coghlan only has 568.1 career innings in center field and they were all logged last season after playing left field the first two years of his career. He did not fair well, posting a -5.1 UZR, and his career -9.2 UZR in left field makes me believe he may never be any good in center. Sadly, his bat does not make up for the lack of defensive value either. Since he won the rookie of the year award in 2009 when he hit .321/.390/.460 he has seen his offensive output drop considerably by hitting .268/.335/.383 in 2010 and .230/.286/.368 in 2011. His wRC+ went from 125-to-95-to-75.
Emilio Bonifacio emerged last season as a super utility guy who played all three outfield positions, second base, third base, and shortstop all while hitting .296/.360/.393, easily his best offensive output of his career thanks to an increase in walk rate and a .372 batting average on balls in play.
Bonifacio, though, has the fewest innings played in center with only 277.2 in his career and has UZR in a small sample size is +0.3 there. And on the offensive side of the ball the BABIP is likely unsustainable and we could see a drop in his batting rates. But, unlike Coghlan and Rowand, Bonifacio does not have a nagging injury or father time stealing his abilities. Bonifacio is a plus runner who stole 40 bases last season and shows great base running skills with a +12.2 career Bsr.
There is always the scenario where the Marlins move Hanley Ramirez to center and let Bonifacio play third base, the position he has the most innings logged at. But that one seems a bit far fetched at the current moment and Bonifacio wasn't exactly the best fielding third baseman with a -5.4 UZR in 100.1 innings.
The best option for center field looks to be Bonifacio. He does have the skill set to succeed there even though he has the least amount of experience at the position. But, I am not sure he is the answer in center. With Logan Morrison playing left field I would want a solid glove in center to help offset his lack of defense and now someone else has to step into the role Bonifacio left vacant as a super utility guy.
But it looks like the Marlins will likely roll with Bonifacio in center with *gulp* Donnie Murphy taking over utility duties until a better scenario comes knocking at their door.
Jonathan C. Mitchell is a Tampa native who can be found writing about all aspects of baseball at his blog MLB Dirt and about the Rays at DraysBay. You can also follow him on Twitter @FigureFilbert